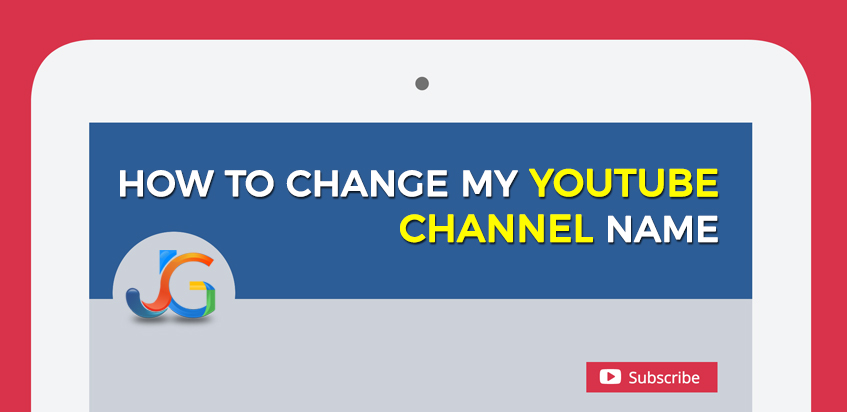 Social media since its inception in the year 1997 has seen numerous attempts but only a handful of successful social media platforms. After so many great attempts to have a social media platform that suits all, our history has given us some outstanding examples of platforms that become a part of lives but one channel has created a special place in our hearts- YouTube!
As per MerchDope, YouTube has become so popular that approximately 1, 300, 000, 000 people use this social media platform. YouTube also observes 300 hours of video being uploaded every minute and about 5 billion videos are watched every day. With such influential credentials you don't want to go wrong on this platform and need to take care of the smallest detail, be it what you upload or what your channel's name is; everything is important.
If you feel that the first time you created your channel name does not go anymore with the shape the channel has taken, it is time to say good bye to the old name. If your goal is to reinvent your name on YouTube and you need to find the answer to the question of how to change my YouTube Channel Name? You have landed at the right place, as this guide will help you to not only answer your question but also revamp your channel in just few quick and easy steps.
Before you start reading further, you must keep in mind that YouTube gives you the freedom to change your channel name a lot of times frequently if you want to try out different options. But also remember that Google will not allow you to do so forever, therefore be sure to be thoughtful before going through the process or answer to the question of how to change my YouTube Channel Name? Google has set a limit on how often you get to change your YouTube channel name. You are allowed to change your name up to three times within 90 days. This means, if you recently changed your name three times, you will have to wait as long as three months to be allowed to change it again.
Changing your YouTube Channel Name
Let us now look at the step- wise guide on how to change my YouTube Channel Name:
Method 1:
Step I: First, Sign into your YouTube Account
For signing in quickly, click on the 'Sign In' option in the top right corner of the YouTube homepage and add all relevant details like your email address and password.
Step II: Go to Settings
Click on the thumbnail that is in the top right corner and select the 'Settings' option which will take you to channel overview.
Step III: Edit on Google
As Google and YouTube are integrated together, changing your YouTube Channel Name also means changing the name on Google+ as well. For doing this go to the account overview page and then click on the link- 'Edit on Google'.
Step IV: Follow Instructions on Google+
This step will take you to your Google+ profile page. Using the boxes available on the screen and change your 'First' name and 'Surname' to what you wish your channel to be called. You have the option of keeping your name intact; you can also add a 'Nickname' and use a combination of this with your original name.
For selecting the change in configuration, click on the drop down arrows next to 'Display my name as' to check out few different options. When you have finalised your choice, click on the 'OK' button to finish.
This answers your question- how to change my YouTube Channel Name. After completing this step all your accounts associated with your Google accounts will use your new name as their name and this means that your YouTube Channel Name too will change.
Method 2:
Changing the YouTube Channel Name Directly from Google
There is an alternative method that can be used for changing your name is by directly going to the Google account page. On the Google account page most other settings for various different Google services you are signed in can be accessed and changing your YouTube name change is no exception either. Although this method, debars you from the benefit of using a nickname, so if you are interested in using nickname option choosing the first method is a good idea.
Step I: Go to Google Homepage
Go the Google Homepage from your account and then sign in by selecting the blue coloured button on the top right corner.
Step II: Click on the option 'Personal info and privacy.
Step III: Go to Personal Info
After selecting the Personal info and privacy option scroll down to the 'Personal info' section and then click on to your 'Name' on the right hand side.
Step IV: Click on Account Name
Now click on your account name, then type in the new first and last name, after doing this click on the 'done' option.
Finally your name has been changed on Google services!
If you seek to download videos from YouTube, that you wish to keep with you for understanding different how to steps like name change on YouTube etc., becoming a successful youtuber, then techiBhai has excellent app suggestions.
Also if you want to change your name on the YouTube platform because you want to increase your audience, there is yet another way that might just not require you to only change your channel name. This includes the use of social media optimization and marketing services by the best social media optimizing company like Jeewangarg. Social Media Optimization is employed to increase awareness of brands, products and services- both new and old, this helps the organizations to connect with the potential as well as valuable customers of the company. What Social Media Optimization (SMO) does is it maximizes your brand reach and increases your conversion rates by increasing your interaction with real customers for real feedback. The range of SMO Services provided by the experts in digital marketing, Jeewangarg can guarantee the following outcomes, which will surely render in success on YouTube:
● Get an Increase in your client base
● Economical and budget friendly online advertising
● Maximizing your reach or target market
● Increase in your conversions rates
● Optimum brand awareness on social media
● Building your Brand fast, like you could never imagine
● Enhancing Customer Interaction
So are you still struggling with any audience building issue or YouTube optimization challenges for your brand/ product/ service, if yes feel free to build a connection with the experts.