Digital Marketing for Travel Agency - Video (English)
Digital Marketing for Travel Agency - वीडियो (हिन्दी)
Digital Marketing Strategy for Travel Industry | Expert Tips
In this blog today, we will talk about Digital Marketing Strategy for Travel Industry. We have seen numerous reports, and what is the most surprising thing about these reports? None of these reports talks about small Indian Travel agencies or agents.
Since small travel agents have gone through a stubborn phase, particularly after the unfortunate pandemic COVID 19, today, this blog will tell you how small travel agents /agencies or small hotel owners should spend their money on digital marketing & avail themselves of the Quality LEADS.
Leads can be generated via:
JeewanGarg.com is one of India's top digital marketing agencies, focusing on SEO, SMO, PPC, Amazon, and Website Designing services. With over 12 years of combined industry expertise, JeewanGarg's leadership team has worked in every nook and corner of the world with many clients.
We have run Digital campaigns for Travel agencies for more than seven years.
After running these campaigns, we conclude that small Travel agents or agencies should not go for SEO & Facebook Ads for some Tourist locations or destinations.
First, let's talk about why SEO is not advisable for Small Travel agencies:
For example, let us say:
If you search for: Shimla Tour Package on Google,
The first page is occupied with travel agents 'Big Giants' through organic results. So it is not easy and possible to rank on the first page. It will take a lot of effort & money to rank on the first page. Plus, any travel agency should have enormous patience if they plan to have an organic ranking on Google.
And if any website is not on Google's first page, his website does not get any traffic whether the company ranks high on the second or third page of the search engine, Google.
The First 3 listing gets 75% clicks.
So if you are not in the first 3 listings, you are not getting any meaningful traffic.
Now let us come to Facebook. Since Facebook is push marketing, Push means we are forcing the user to see our ads.
He has not come to search for a tourist package, but we are showing him ads.
If he still interacts with our ads, that inquiry may not be very fruitful.
After running the ads for one of the Travel Agency, we had to stop Facebook ads after a month as inquiries were not relevant. The Travels agency was wasting its valuable human resources to convert those inquiries.
But yes, we can use Facebook's ads for remarketing. We will record a separate video for this. How does it have to be done?
So finally, what option we have left with: Google Ads
Yes, we should run Google Ads for the Travel Industry. You can see on the screen also that cost per conversion for Himachal is 253/- only. The client is also receiving many phone calls that are not included in these conversions.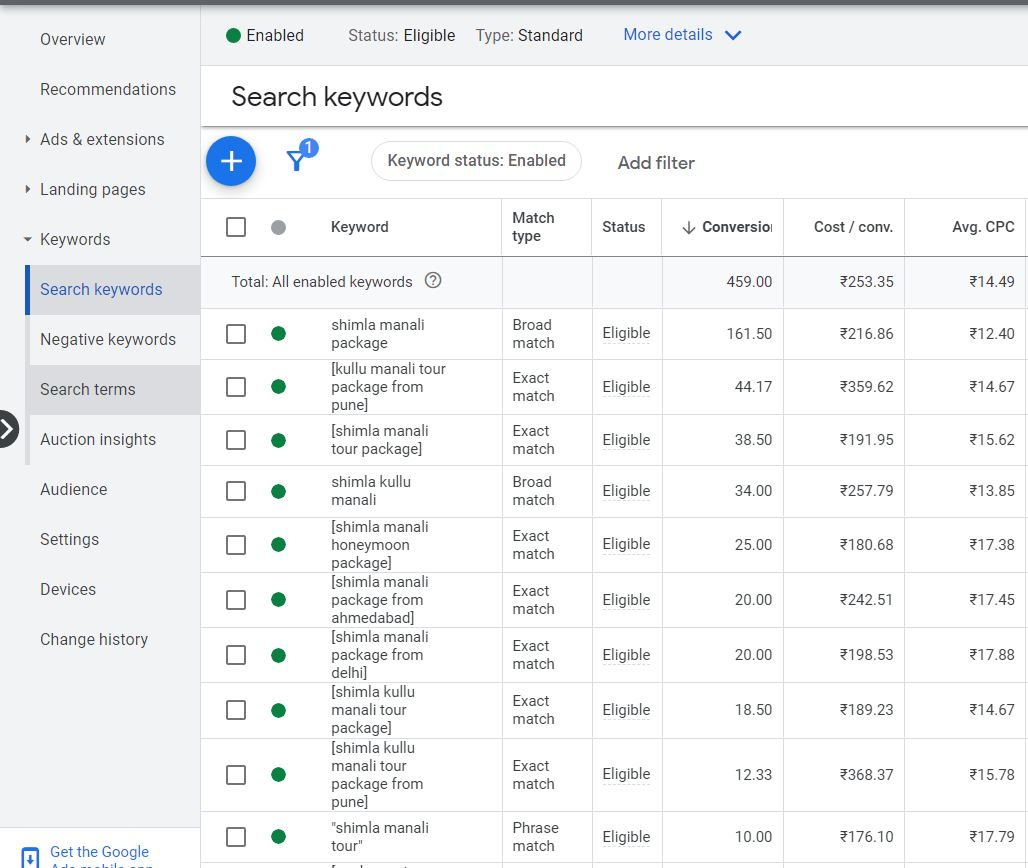 In India, we usually call more than fill an inquiry form.
This Travel agency is getting leads in approximately INR 100 (phone calls plus inquiry forms)
This means any Travel agency for Himachal destination can get leads in INR 100 approximately.
300 leads in a month will cost them INR 30000.
So you must be wondering that SEO for a Travel agency that deals in other locations should be done or not.
I am not saying that.
There are few Tourist locations for which SEO can be a part of Digital Strategy.
One such example is the Desert camp in Jaisalmer. SEO can be done in this category with some intelligent thinking & hard work.
Friends, there could be more tourist destinations for which SEO could be a part of the Digital marketing strategy.
You can send us the location in the comment section for which you want us to tell you whether it is advisable to do SEO or Google Ads for that Tourist location or not; we will let you know about it.
However, you can hire the SEO Company or your (Existing Digital Marketing Company if you already have) and ask whether it is possible to do SEO for your tourist destination in which you are dealing.
To summarize, if any Travel agency is planning to go for SEO for Himachal destination, he should not try unless his budget is enormous and he has a high level of patience.
Otherwise, he should go for Google ads immediately without giving it a second thought.