PPC industry is a huge market consisting of hundreds of different PPC networks as well as the millions of users. However,If someone is new to PPC then she most probably has a lot of questions about how PPC works. Maybe the newcomers are also not sure that if PPC is meant for them or not, or someone may ask you about how much Google Ads cost? So, whatever your question is, we're here to help you find the answers and make to stay up to date with the world of Google Ads or PPC.
In this following blog, we will specifically be answering the question related to Google Ads Pricing. Although this question never had a simple answer, but I will break it down into steps and try to make you understand How PPC Pricing Works? If you want to start PPC advertising for your online business then this blog will help you to understand that how much money to put aside for setting the PPC campaign.
The Most Expensive Google Keywords
In the World of paid advertising, you will come across some keywords that everyone wants to show their products/services on. These keywords may be popular among large companies and can result in a bid war between two giant organizations. For instance, when 2 international companies step into the war of same keyword then what the only thing you can expect is "The Expensive Prices"
At one end, there are some very cheap keywords that can be ranked upon for very less money but that's not a good idea. While on the other end, there are some super expensive keywords which can generally cost a big amount per click. However, these keywords are only for certain industries and luckily you won't have to pay that much for your ads. The most expensive keywords come from some particular industries like law, insurance and finance and the main keywords & most expensive keywords of these industries go into the $500 range.
You can get a rough idea of how much a particular keyword can cost you. For that use the Keyword Planner tool as a benchmark. Here you simply can enter an industry term or keyword, and the tool will find out no. of relevant keywords for you. Moreover, you can fine-tune the targeting below the search box so that it shows the cost of advertising in the country you desire to advertise. This might have a slight impact on price because some countries are more expensive than other ones.
Let's Explore Google Ads Pricing?
Google Ads can be created with both automatic and manual bidding that means that sometimes users want to let Google adjust the bids for them automatically. While in other cases users may want to be in complete control themselves. So, what does it mean by being in control? It means that you can decide how much Google will charge you per click. Here, you simply put the number to your max bid/click and Google will take care of the rest. However, you can't just put an amount blindly but to make sure that people see your ads you are needed to set your bid higher than the average CPC of that particular keyword or industry.
The price you pay for a keyword depends on the industry and competitiveness of that particular keyword. When your keyword is super competitive, then it is best practice to let Google decide the bid with bidding automation. On the highly competitive keywords the chances are your competitors are using automated system to automatically adjusting the bid prices which can give them an advantage over the ones who are doing it all manually. If you are an Expert in running Google Ads then you may opt to set bids manually. However, if you want to be in the top 4 places on the Google then you'll always need to bid more than how much your competitors bid. Now let's talk about, "how much does it cost to get on the first page of Google?"
How Much One Need to Pay to Get on the First Page of Google?
Getting placed your ad on first page can be easy or hard depending on your targeted keyword. If you are taking a keyword which has no competition, then you can simply take it on the first page.
However, the keywords that have numerous ads already running on themselves then these keywords can be much costlier as well as trickier too to get onto the 1st page. As a rule of thumb, for getting ranked higher on Google you need to pay more which means that if the keyword planner giving you the average price of what other advertisers are paying, then you need to pay more than that amount.
Our suggestion will be to pay an additional 30 – 50% per click so that you can see how high you rank. Sometimes you may still appear on page 2, while sometimes you will be shooting straight to number 1 position. It is however, unfortunate that you can't calculate it simply. The only way to find out how much will it actually cost to get on first page is by adjusting your bid and increasing and decreasing it accordingly.
Key Factors Affecting Google Ads Pricing
Let's have a quick look on the top factors that affect the Google Ads Cost.
Competition :-
As we know Google Ads leverage the Auction Bidding system. And every industry is unique as well as the level of competition also influence greatly that how much keywords costs on every click. If you are in a super competitive industry i.e. insurance, finance, or loans then you can expect to pay hundreds of rupees per click. On the other hand, if you are in a less popular industry then the chances are your CPC will be much lower comparatively.
Location :-
Targeting different areas of the world also have a big impact on the CPC and overall campaign. Let's divide the countries as different tiers to understand the pricing. The most developed countries in the world like UK, USA, Canada, France, Germany etc are generally considered as "tier 1". And due to their quality traffic these countries have the highest CPC. If we compare this to a lower tier of countries like India, Pakistan, Brazil then their CPC will be much lower. So, when setting your campaign up make sure you keep an eye on the countries you are targeting in and ask yourself if you really need to target those specific countries.
Device :-
Just like locations, device targeting also plays a big role in the Google Ads Pricing. Let's split it into 3 main categories: mobile, tablet and desktop traffic. Each of these devices has its own CPC. Desktop traffic usually has the highest CPC but it further depends on the industry too, sometimes mobile traffic can also be more expensive. The best way to see if you can save some money or not is experimenting with different types of traffic for your campaign.
Google Network :-
Google mainly has two Google Networks. 1. The Google Search Network and 2. The display Network. These both networks display ads in different ways. The Google search network shows the ads that are displayed when you search something in the Google search engine.
While on the other hand, you have the display network which works in a different manner. This network is although controlled by Google but it allows your ads to be displayed to a larger audience by using other people's websites. This, in turn, allows users to target a larger audience.
These different networks have different prices and it can greatly affect your CPC t on Google. However, the search network is usually more expensive than the display one because the quality of users is higher here. If your target is to get some cheap traffic from Google's network then you must try their display network.
Quality Score :-
The final factor affecting your CPC is the quality score of your campaign and account. A good quality score can save advertisers a lot of money or sometimes cost them a lot more if the quality score is bad. A good quality score can reduce your average CPC by up to 50%. On the other hand, a bad quality score can increase the ad's CPC by up to 400%. Making sure that your campaign has the highest quality score possible is important to reduce your Google ads costs.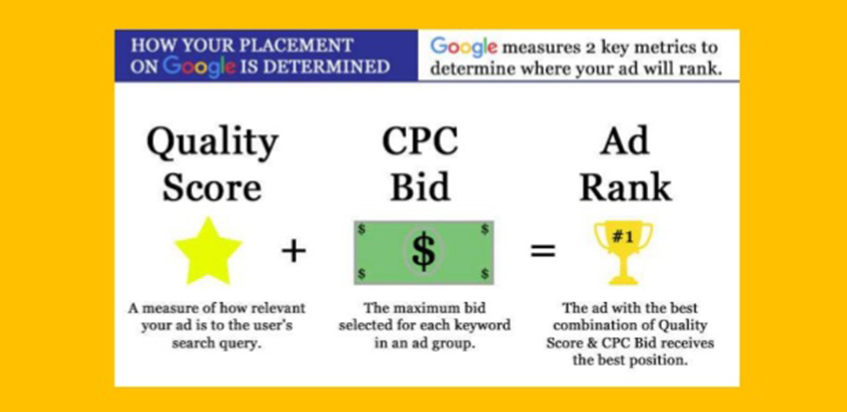 Every advertiser and their ad campaign on Google Ads are given a quality score metric. A good quality score means you save money and pay less per click compared to other advertisers. A bad quality score means that your CPC will increase and you need to pay 100% or more just to compete with other advertisers who are actually paying a lower price.
Get a Good Quality Score :-
Every advertiser and their ad campaign on Google Ads are given a quality score metric. A Good Quality Score means you save money and pay less per click compared to other advertisers. A bad quality score means that your CPC will increase and you need to pay 100% or more just to compete with other advertisers who are actually paying a lower price.
Final Takeaway…
So now when you know how much Google charges for advertising then it's up to you to decide if it is worth your time and money. Although there is no guarantee that you'll make money from advertising on Google, but it is definitely worth trying as you never know, you might be able to get high-quality clicks for only half of the maximum CPC set. If you don't do it then one of your competitor's will take the advantage.