Google is a name easily synonymous with every living being that uses the Internet. Its no surprise, a major portion of online advertising industry weighs its performance on Google itself. Companies coming on the front page of Google relish their ranking as ultimately they are the ones being most watched and sponsored. Since most vendors spend two third of their digital budget on Google, it is deemed a critical support system of the online marketing world. Promotions on both Google and Facebook have highlighted the significance of the two in this corporate world.
In today's time, the internet has become a strong hub for advertising products and promoting sales. The importance of search is materialized on the SERP (Search engine results page). As a corporate entity advertises its products on the web, it is very unlikely to show its entry on the main page or on subsequent pages, because there are other countless numbers of business sects also trying to endorse their services. Say for example, if a person wants to purchase a brand of mobile, thousands of sites will appear and much more will not. However, if I want my product to come on top of the page, it becomes all the more crucial to enhance steps that support my site's search.
Main Principles of SEO:
Search engine optimization is a technique that holds and work with nearly every aspect of website building and development of content. Once it has been done in an effective manner then SEO creates a better user experience for the consumer and thereafter starts building consumer's trust in the company.
SEO mainly works on the goal of demonstrating your website's value to the search engines. And if the search engine knows your value then only it will rank your pages higher on SERPs for the relevant queries. It becomes more important because it is able to help your customers to find you easily.
How SEO works:
Do you even imagine how Google understands or reads the content on your website. The answer is that Google reads the content of your websites available online with their spiders. These spiders look for some key information that cue to them the topics and value of the content on each webpage. But the spiders cannot really read. That means they will just look for certain terms/ keywords and examine the site to find clues about the value of the site. Look at these important aspects of SEO that form the basis of any strategy.
● Keyword Optimization
Keywords are the terms you write about and Google tries to match the search terms that your target customer uses as their search query. However keywords alone are not enough still these are important to keep in mind them. Google does not want to see texts with endless repetitions of the same keyword or Search term. This kind of text is poorly readable and gives a poor user experience. Instead, Google wants to see semantic keywords with high value keywords. Semantic keywords are the other terms you will likely use when discussing a particular term. See in the below image.
● The site construction & organization
Google's algorithm also looks at the organization of the site as if you have a clear site map then it becomes easy for Google to navigate the site. It also makes sure that the spider does not miss any of the pages of the site while scanning the domain. A clear site map and easy navigation also increases the user experience. It is as simple as that when users will find it easy to move throughout your site, they will become more engaged with the content and in a better way.
Site load speed is also included in the part of Site Construction. Pages that take more time to load on any device Google marks those pages poor and your viewers will also left your site in a lesser time than usual. Businesses need to carefully consider construction of their site that also include the images and videos they use so that they can be confident that everything which they have created will take an optimal load time.
● Handle Site Errors
If your website is facing some kind of errors then it also negatively impact SEO. Site errors interrupt the user experience and it becomes harder for visitors to find the actual thing they are looking for. These types of mistakes also hurt rankings for the pages as Google doesn't overlook these errors.. A part of SEO ensures of running a site audit and checking that all error pages and similar types of mistakes are cleaned up. A simple site audit looks like below and tells you about the errors you might have on your site. You can run this site audit through a variety of different programs, but most effective way is to you hire an SEO Services Company to audit your site so they can correct it for your site in the best possible way.
● Mobile Optimization
SEO would not be considered complete without mobile optimization. Today more no. of searches come from mobile devices instead of desktop. In response, Google have updated their requirements to improve mobile optimization.
Google has clearly mentioned that websites that are not mobile-friendly will going to be hurt in Google rankings. Google or other search engine does not use separate algorithms for mobile and desktop.
Google now looks first at the mobile construction of the website and then decides the ranking of a website. What does it mean now that your mobile optimization will impact your site rankings on both mobile and desktop. To get succeeded in this mobile-first world you need to use mobile SEO to make sure that their content has been created correctly. It should also load well on mobile devices and be easy to read, and avoid any texts that might interrupt the mobile-user experience. To properly optimize for mobile devices businessmen must focus on creating sites for mobile users also instead of just creating a site that works on desktops or computers.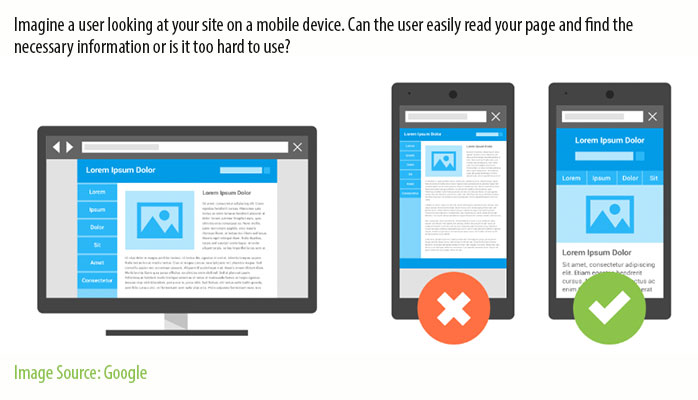 Why SEO is important for your business:
In today's technology fueled world everything is likely to go online and in this digital time SEO marketing has become more important than ever before. As millions of people daily searches for the answers of their queries on search engines mostly and search engine serves them to find their solutions in the best possible way. If you owe a website or some e-commerce online store or some kind of blog, SEO will definitely help you to grow your business and meet the goal or objectives of your business.
Search engine optimization is important because:
● SEO works for the Brand Building, Better position on SERP, Attracting more traffic, Generate more leads, Business growth and Better understanding of what customers want to see.
● Most people on search engines generally click to one of the top 5 or 10 results of SERPs so for taking advantage of this and gain more no. of visitors towards your website you need to appear in one of the top positions.
● SEO does not just optimize your website for search engines but properly optimized websites give a rich user experience.
● Users have full trust in the search engines and if your site presents on the top positions for the keywords the user is searching then it increases the web site's trust.
● SEO also helps in Social Promotion of your website i.e. Facebook, Twitter or Google+.
● SEO can let you stand ahead of your competitors. If two web sites are selling the same thing or giving same services then the web site properly search engine optimized is more likely to have more customers and make more sales.