Google has been putting more & more efforts and focus into providing the businesses with more options to maximize their exposure through Google's own platform.
Google is now adding more options to Google My Business for improving the ability for businesses to be discovered online. However, "Google My Business" is more effective for local businesses, or the small businesses.
The local businesses which are looking to success in the digital age are likely to use GMB (Google My Business). The comprehensive and listing-based platform of Google aims at helping the web audiences in finding and engaging with the businesses of all shapes and sizes.
GMB serves as an online directory. The GMB (Google My Business) allows the businesses to manage the consistent information about their company across the web. Additionally it provides some tools for interacting with customers, as well as for sharing relevant updates, and analyzing data insights.
Therefore, the local businesses who are looking to expand their audience as well as sales should utilize the Google My Business.
What is Google My Business…?
GMB is a tool that is free of cost, and allows businesses to promote their business website along with the business profile on Google Search and Maps.
With Google My Business account, businesses can see and connect with their customers, as well as post updates to their Business Profile, and see how customers are interacting with their business on Google.
Why should the businesses leverage the Google My Business Listing?
Google My Business provides you with more ways to attract and engage with customers who are searching for your business or your services/products.
Moreover, GMB (Google My Business) is particularly useful to small businesses because:
Google has reported that a staggering 46% of all searches have local intent
4 out of 5 customers use search engines for finding out about any local information/businesses/services.
70% of customers who visit a store to make a purchase came after an online search.
And lastly, 85% of people trust the online reviews as much as they trust personal recommendations.
So whether you consider creating a listing for your business or looking for the best ways to boost your already listed local presence, this article is for you…
But, before diving deep into the hidden benefits of GMB let us first look at the obvious benefits of Google My Business…
Let's review some clear, and obvious benefits for utilizing the Google My Business platform...
GMB is free: When you start promoting your business, or think of building your brand, or want to establish customer relationships then, you need to spend a lot of hard-earned money. However, when it comes to GMB...
Google My Business is a free tool that makes you to start promoting your business free & easily.
Additionally, the sign-up on GMB isn't a complicated process. Therefore, getting your business included on the free platform called Google my business is a budget-friendly & beginner-friendly way to start building your business.
It's Consistent: If you have put some information on GMB then, you want the information about your business on the web to be accurate.
GMB helps you to input, manage, and update the correct information along with the details about your business across the internet. So that the searchers can get the right or correct info through search engine queries
Therefore, you must keep the information up to date for gaining the maximum out of this Google-powered benefit.
It boosts local SEO: Google my business listing is the key part of your local SEO and your marketing strategy. As it helps the customers in your area find you, and which ultimately improve your business's search engine rankings.
Manageable: With this one master dashboard within Google My Business it is easy to supply information about your business to audiences. It provides you with a stress-free way to increase the visibility of your business on the web. Additionally, the GMB has an app for on-the-go management.
Create Good First Impressions: With the creation of an accurate and detailed GMB listing you can put the face of your business forward. With the feature of photo and video upload you can give your customers the most thorough idea of what you can offer them through your business.
Review Management: On Google my business, it is easy to monitor, manage, as well as respond to the reviews on the GMB dashboard itself. It will make you stay connected with customers and improve relationships.
Engagement Opportunities: As a business owner, you won't just want your audiences to find your business but, you will want them to connect with your business. So, GMB provides numerous opportunities for customer interaction that makes it easy to nurture relationships with your audiences.
Provides Insights: Furthermore, the "Google My Business" provides you with the insights of your business listing that give you valuable knowledge into what is working and what isn't
Insights focus on how customers find your listing on Search and Maps, and what they do after they find it, helping you make changes to improve your listing—and your business.
Provides Perspective: With rich insights, review integration, and customer interaction features, Google My Business allows you to gain perspective on your business' online reputation. Knowing how audiences perceive your business will help you improve and grow.
What are the newly launched features of "Google My Business?"
From the above discussion, you can understand that by taking advantage of Google My Business' host of features you can manage your business's information and can promote your company additionally that too in simple ways.
But there are some not-so-obvious advantages of Google My Business? Are there some unseen benefits/features to the service?
Yes… Here we will be discussing about the ten unseen features and benefits of GMB you may not much aware about.
1. Incorporate Menu Tool:
If you're a local business for instance a Restaurant, or a Salon that offers list-style services then, you can use the GMB's Menu tool with the help of which you can show the audiences that "what you offer" directly within their Google search.
Moreover, you can edit the menu selections there including the titles, the prices, the descriptions, and even the nutritional stats. And by getting this, your audiences won't need to go to the web for the getting the additional info they want about your business' offerings.
This kind of convenience and accessibility won't go unnoticed by customers.
2. Instant Booking Feature:
When as a business owner you offer a service the customers then, you should try not to tire the customers by making them jump through very complicated procedural hoops for getting connected with you or find information about your business.
However, with an additional integrated provider, the booking feature of GMB makes it easy for the visitors to easily schedule appointments directly through your listing, and it becomes easy for you too as you can manage those bookings on a simple online interface.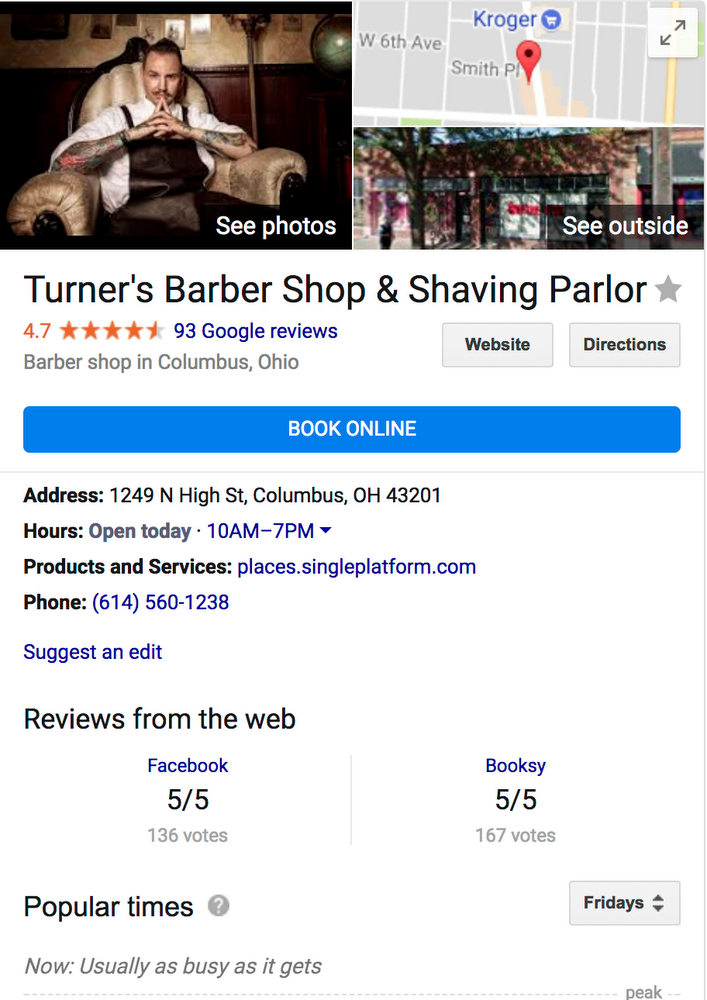 3. HeatMap Insights Feature:
We already talked about that Google provides the basic insights about how customers are finding your GMB listing. However, in addition Google allows you to track the location or area from which customers are requesting directions to your business.
It also provides insights at various zoom levels, like post code, city, and country. This provides useful clues into which geographies are being attracting to your business.
These insights will help you in planning and executing your marketing efforts more effectively. You can access the "Heatmap insights" from your GMB dashboard.
4. Website Builder Tool:
Many business owners are not aware about GMB's this feature, do you know about it? Through Google My Business, you can also create a free, customizable, and mobile-friendly website. It is created with their easy-to-use builder tool.
GMB allows you to create, edit, and publish a simple, yet professional page site that the searchers can access for getting connected with your business. Moreover, you can also opt a custom domain for your site and also connect it with Adwords for simple advertising integration.
5. Better ROI:
Local search delivers a better ROI than the other digital marketing channels. Moreover, it delivers more engagement & higher-quality leads. Therefore, with the GMB listing you're taking key steps toward building your local SEO and driving customers to your business.
6. Relationship-Building Opportunity
Creating and managing a GMB listing is an opportunity to build engaging as well as a two-way relationship that is too before you even personally meet your customers.
Therefore, by building a proper business listing, by updating it regularly, as well as by connecting with audiences through posts, review response, and messaging, you have opportunities to demonstrate not only strong customer service skills, but also generate a genuine interest in personal connection.
7. People also search for" Feature:
Moreover, GMB provides simple but a very useful insights into your company's competitors with the feature called "People Also Search For".
This feature is located at the bottom of your Google listing, this footer provide your customers with the other types of products that customers might be searching for. By cluing in to your competition, you can boost your efforts to offer the best value in your field through your business. Please have a look into the following image: -
8. Offers posting tool:
Most of the people get enticed by a good deal. Therefore, Google My Business "GMB" is here to give you a simple way to market to the sale-seeking audiences with the great offers posts. And you know what, this feature is free to use.
At the end, I would say that "Google My Business" is good for your business. And if you want to get the most out of the tool then don't use it by having accessible hours of operation info or some flashy photos on an online listing.
Utilizing the full range of Google My Business' features that are very much comprehensive and beneficial in creating and optimizing your listing will definitely help you to take your business to the next level of growth with new leads, strong customer relationship building, and a well-managed online reputation.